Für ein individuelles Angebot stehen wir Ihnen gerne zur Verfügung.


Nutzen Sie einfach unser Formular und wir kontaktieren Sie schnellst möglich.
Jetzt Zugang anfordern und 30 Tage kostenlos testen!


Industriearmaturen & Dichtungen
Das Fachgebiet Industriearmaturen & Dichtungen beschäftigt sich schwerpunktmäßig mit dem Wissens- und Erfahrungsaustausch zwischen Industriearmaturen-Anbietern und -Anwendern und informiert über Armaturen und ihre Komponenten im Bereich der Chemie und Verfahrenstechnik, der Kraftwerks- und Wärmetechnik, der allgemeinen Industrie, der Wasserwirtschaft, der Abwassertechnik, der Sterilanwendung sowie der Dichtungstechnik.
Bitte beachten Sie, dass die Zeitschrift Dichtungstechnik seit 2017 nicht mehr erscheint. Die Inhalte finden sich in der Industriearmaturen.

Industriearmaturen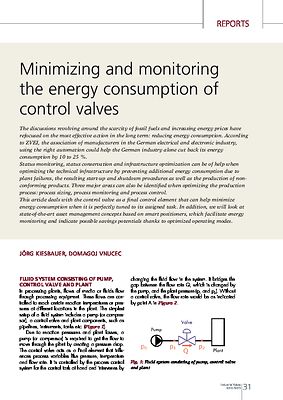 Minimizing and monitoring the energy consumption of control valves
Autor: Jörg Kiesbauer/Domagoj Vnucec
Special 1 2012
8 Seiten
The discussions revolving around the scarcity of fossil fuels and increasing energy prices have refocused on the most effective action in the long term: reducing energy consumption. According to ZVEI, the association of manufacturers in the German electrical and electronic industry, using the right automation could help the German industry alone cut back its energy consumption by 10 to 25 %. Status monitoring, status conservation and infrastructure optimization can be of help when optimizing the technical infrastructure by preventing additional energy consumption due to plant failures, the resulting start-up and shutdown procedures as well as the production of nonconforming products. Three major areas can also be identified when optimizing the production process: process sizing, process monitoring and process control. This article deals with the control valve as a final control element that can help minimize energy consumption when it is perfectly tuned to its assigned task. In addition, we will look at state-of-the-art asset management concepts based on smart positioners, which facilitate energy monitoring and indicate possible savings potentials thanks to optimized operating modes.
Unsere Titelinfos in der Übersicht