Für ein individuelles Angebot stehen wir Ihnen gerne zur Verfügung.


Nutzen Sie einfach unser Formular und wir kontaktieren Sie schnellst möglich.
Jetzt Zugang anfordern und 30 Tage kostenlos testen!


Automatisierungstechnik
Das Fachgebiet der Automatisierungstechnik beschäftigt sich schwerpunktmäßig mit der industriellen Praxis der Prozessautomatisierung verfahrenstechnischer Anlagen, der Fertigungsautomatisierung und der Prozessleittechnik.
atp edition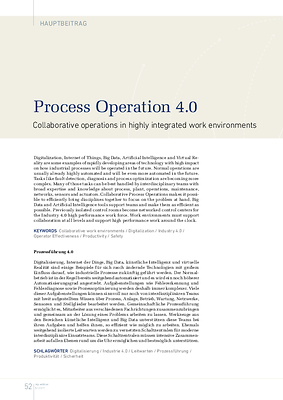 Process Operation 4.0
Collaborative operations in highly integrated work environments
Autor: Martin Hollender / Tone Grete Graven / Jeton Partini / Pierre Schäring
Ausgabe 05 2017
7 Seiten
Schlüsselwörter: Automatisierungstechnik


Digitalization, Internet of Things, Big Data, Artificial Intelligence and Virtual Reality are some examples of rapidly developing areas of technology with high impact on how industrial processes will be operated in the future. Normal operations are usually already highly automated and will be even more automated in the future. Tasks like fault detection, diagnosis and process optimization are becoming more complex. Many of those tasks can be best handled by interdisciplinary teams with broad expertise and knowledge about process, plant, operations, maintenance, networks, sensors and actuators. Collaborative Process Operations makes it possible to efficiently bring disciplines together to focus on the problem at hand. Big Data and Artificial Intelligence tools support teams and make them as efficient as possible. Previously isolated control rooms become networked control centers for the Industry 4.0 high performance work force. Work environments must support collaboration at all levels and support high performance work around the clock.
Unsere Titelinfos in der Übersicht