Für ein individuelles Angebot stehen wir Ihnen gerne zur Verfügung.


Nutzen Sie einfach unser Formular und wir kontaktieren Sie schnellst möglich.
Jetzt Zugang anfordern und 30 Tage kostenlos testen!


Automatisierungstechnik
Das Fachgebiet der Automatisierungstechnik beschäftigt sich schwerpunktmäßig mit der industriellen Praxis der Prozessautomatisierung verfahrenstechnischer Anlagen, der Fertigungsautomatisierung und der Prozessleittechnik.
atp edition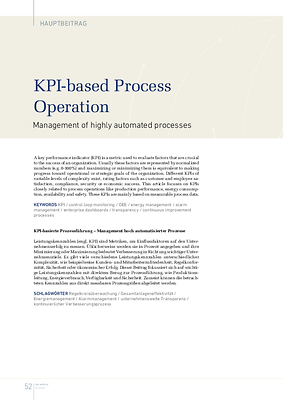 KPI-based Process Operation
Management of highly automated processes
Autor: Martin Hollender/ABB Corporate Research Center Germany / Moncef Chioua/ABB Corporate Research Center Germany / Jan Schlake/ABB Corporate Research Center Germany / Lennart Merkert/ABB Corporate Research Center Germany / Heiko Petersen/ABB Automation
Ausgabe 09 2016
10 Seiten
Schlüsselwörter: Automatisierungstechnik


A key performance indicator (KPI) is a metric used to evaluate factors that are crucial to the success of an organization. Usually these factors are represented by normalized numbers (e.g. 0-100%) and maximizing or minimizing them is equivalent to making progress toward operational or strategic goals of the organization. Different KPIs of variable levels of complexity exist, rating factors such as customer and employee satisfaction, compliance, security or economic success. This article focuses on KPIs closely related to process operations like production performance, energy consumption, availability and safety. These KPIs are mainly based on measurable process data.
Unsere Titelinfos in der Übersicht