Für ein individuelles, bedarfsgerechtes Angebot stehen wir Ihnen gerne zur Verfügung.


Nutzen Sie einfach unser Formular zur Kontaktaufnahme.
WEITERE FRAGEN RUND UM SCIFO?
Industriearmaturen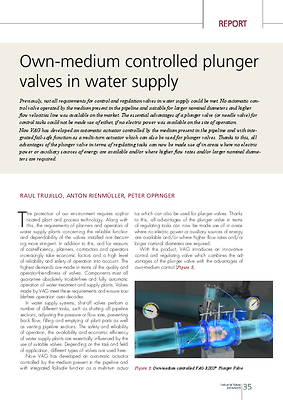 Own-medium controlled plunger valves in water supply
Autor: Raul Trujillo / Anton Rienmüller / Peter Oppinger
Special 1
2014
1 Seiten
Previously, not all requirements for control and regulation valves in water supply could be met. No automatic control valve operated by the medium present in the pipeline and suitable for larger nominal diameters and higher flow velocities line was available on the market. The essential advantages of a plunger valve (or needle valve) for control tasks could not be made use of either, if no electric power was available on the site of operation. Now VAG has developed an automatic actuator controlled by the medium present in the pipeline and with integrated fail-safe function as a multi-turn actuator which can also be used for plunger valves. Thanks to this, all advantages of the plunger valve in terms of regulating tasks can now be made use of in areas where no electric power or auxiliary sources of energy are available and/or where higher flow rates and/or larger nominal diameters are required.