Für ein individuelles, bedarfsgerechtes Angebot stehen wir Ihnen gerne zur Verfügung.


Nutzen Sie einfach unser Formular zur Kontaktaufnahme.
Jetzt SciFo 30 Tage kostenlos und unverbindlich testen!


WEITERE FRAGEN RUND UM SCIFO?
Industriearmaturen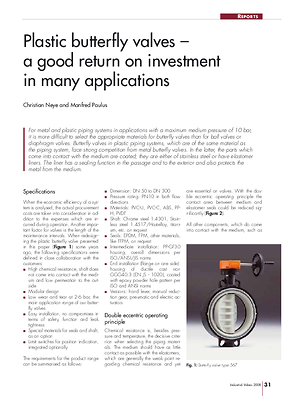 Plastic butterfly valves - a good return on investment in many applications
Autor: Christian Neye and Manfred Paulus
Special 1
2008
4 Seiten
For metal and plastic piping systems in applications with a maximum medium pressure of 10 bar, it is more difficult to select the appropriate materials for butterfly valves than for ball valves or diaphragm valves. But-terfly valves in plastic piping systems, which are of the same material as the piping system, face strong com-petition from metal butterfly valves. In the latter, the parts which come into contact with the medium are coated; they are either of stainless steel or have elastomer liners. The liner has a sealing function in the pas-sage and to the exterior and also protects the metal from the medium.