Für ein individuelles, bedarfsgerechtes Angebot stehen wir Ihnen gerne zur Verfügung.


Nutzen Sie einfach unser Formular zur Kontaktaufnahme.
Jetzt SciFo 30 Tage kostenlos und unverbindlich testen!


WEITERE FRAGEN RUND UM SCIFO?
Industriearmaturen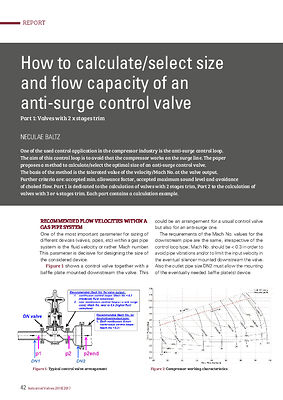 How to calculate/select size and flow capacity of an anti-surge control valve
Autor: NECULAE BALTZ
Special 1
1970
6 Seiten
Schlüsselwörter: Industriearmaturen & Dichtungen


One of the used control application in the compressor industry is the anti-surge control loop. The aim of this control loop is to avoid that the compressor works on the surge line. The paper proposes a method to calculate/select the optimal size of an anti-surge control valve. The basis of the method is the tolerated value of the velocity/Mach No. at the valve output. Further criteria are: accepted min. allowance factor, accepted maximum sound level and avoidance of choked flow. Part 1 is dedicated to the calculation of valves with 2 stages trim, Part 2 to the calculation of valves with 3 or 4 stages trim. Each part contains a calculation example.